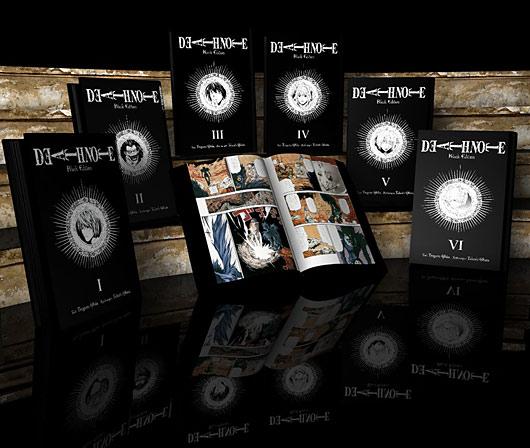 Death Note Manga Black Editions 1-6 Volumes By Tsugumi Ohba
Paperback
Tokyopop
"Light Yagami is an ace student with great prospects--and he\'s bored out of his mind. But all that changes when he finds the Death Note, a notebook dropped by a rogue Shinigami death god. Any human whose name is written in the notebook dies, and now Light has vowed to use the power of the Death Note to rid the world of evil. But when criminals begin dropping dead...."
--------------------------------------------------
This weeks wishlist wednesday goes to Death Note By
Tsugumi Ohba
. I came to find out about these beautiful editions from Sue from SueMoro on youtube and Whytnee from Booksarelovex3. These two amazing booktubers mentioned these in their videos and It got me wanting them on my shelf so bad that I'm thinking about getting them this year. THANKS LADIES! hehe. I've been watching the anime to these books on youtube and it's so intriguing and most plot driven that I end up wanting more and more of it. I honestly cannot wait to read these managa.
---------------------------------------------------------------------------------------------------
DON'T FORGET TO CHECK OUT
THANK YOU FOR READING
MY POST, I HOPE YOU ENJOYED IT